Some months ago,
Dagger
was invited to share stage with
El Haragán & Cia
, a band from Mexico City. We didn´t think it twice and we accepted the invitation. This one's going to be Dagger's very first concert in a "Urbano" show.
The "
Urbano
" genre, (Urban by translation) is a unique musical genre in Mexico. It embraces several music such as Rock, Blues & Metal. Although the Urbano in Mexico is not quite a major and televised, commonly accepted genre by the mainstream media, it has thousands and thousands of followers.
Urbano is actually one of the most original rock massive concerts in Mexico -despite a lot of people don´t like to think that way- and it's also one of the thoughest scenarios to play in Mexico.
The audience is one, if not the most of daring audiences to play for
. Mostly the worker class that enjoy few places to gather and therefore demand for high-quality and exciting shows.
The show took place in a "Ballroom", a place that is frequelty used for Quinceaños (XV birthdays), Weddings, and some other entertainment dancing shows in the city of Puebla.
We arrived on time, after had been lost for a while.
It was about 4 p.m. and the show started around 5.30. We saw several fans already gathered around the venue. Yes, that early and in a Sunday afternoon.
After we contacted the promoter and confirmed our schedule, we sat to see
El Haragan's
sound check. It was memorable. In the most bluesy sound and great guitar riffs, this band sure rocks your heart. We were listening to a band that has more than fifteen year-experience, rocked through out Mexico, Chicago, San Francisco, New York and Spain. We were there, thinking about all the autograph requests from some friends and family to ask for this band. We also thought of some people that totally hate this band, and all the people who loves them.
El Haragan soundcheck by Dagger
Add to My Profile
More Videos
After their sound check, we finally reached the band's leader,
Luis Alvarez
and talked for a while. We asked for some autographs and pics. He is the coolest guy!
The band went for lunch and we had to stay and wait for our time show. We sat in this dirty pink sofa we saw and wait. We started to get in our nerves, the audience was already getting hot and desperate for the show to begin. People started to shout to every guy on the stage, sound engineers, roadies, managers.
Mireya then espontainously wondered what how would it be if
Dagger could open the concert that afternoon...
Ironically, some minutes later, the promoter told us that the first band in the line-up didn't reach the city, and Dagger would be the opening band.
Fucking shit!!!! No way!
Anyhow, we flee to the car and grabbed our instruments. Back in the ballroom, people was already desperate and shouting. I grabbed a
Jumbo beer
and asked for two more for the other Daggers. The sound engineer did nothing but point to the amps and drum set we were about to use. He wished us good luck. We plugged in the fastest way we could, but people was already yelling at us. They didn't had any idea who Dagger was. Just a couple of chicks and this tall "guero" guy (actually Pablo is black haired, but as being white, they called him "
guero
").
The audience just sat there during the first song. Our set list is predominantly in English, and we have two songs in Spanish. Of course, the audience was pointless, although they banged their heads, after each song they kept yelling at us! We took that in good way, we had fun and share the laughs. We played hard and focused. We really had BIG TIME in our first Urbano concert.
A punk rocker in the second floor gave us the Metal sign, some few others gave us that too. They were enjoying our songs as we did.
We finished the set, and left the stage. I felt that we accomplished some big stuff, I turned into a more spiritual person, I did indeed! I left with a big smile, and while I was walking out, the sound engineer and her girly friends, told us that he dig it.
One guy from the audience, dressed in white clothes and sombrero, who let's say, was the public´s yelling guide and was the most intimidating one, stopped us and said "That was great, man", and he
gave us the peace sign with a smile
.
At the main entrance, some bouncers told us that they liked our show, that we should come again. We went outside and left our stuff in the car. Back in the ballroom we met "
El Sopas
" the sax member of El Haragan. He told us that he left their lunch to see us, although he arrived quite late. He was quite on a stoned and funny mood, and suddenly he gazed Pablo and asked him if he was the "Pussy Keeper". We laughed and automatically told him that I was married to him. He said, "
I don't give a damn
". We laughed hard, took some pics and asked for more autographs.
We had to leave early, as we had to take the one hour high way back to Mexico City. We headed to the promoter and thanked him. He asked how we felt, we said it was one of the coolest shows we have ever experienced. We were glad to play and leave without pissing in our pants, as some other bands would actually do. We have this huge poster show that will always remind us that we played in one of the most important shows in our life.
Dagger is deeply thanked for this opportunity and ready to rock big time.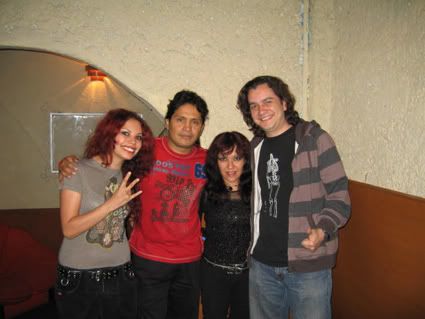 Dagger with Luis Alvarez, lead singer, El Haragan y Cia.




Dagger with El Sopas, killer Sax, El Haragany Cia.